A CLASS ACT
The Tony-Nominated, A CLASS ACT is a love letter to the musical theatre. It is the inspiring true story of Ed Kleban, lyricist of A CHORUS LINE, and his life-long quest for friendship, love, and theatrical recognition. Told through Kleban's own, never-before-heard songs, A CLASS ACT brings you behind the scenes and into the hearts of the rare, colorful people who made the musicals we grew up to and fell in love with.
A CLASS ACT will take you on an insider's backstage tour to the BMI workshop where theatre songwriters begin, to the legendary Michael Bennett dance studio where theatrical history was made and to Marvin Hamlisch's apartment where A CHORUS LINE was created. For anyone who has ever struggled to make a personal dream come true, A CLASS ACT is the musical you must see.
A TALE OF TWO CITIES
In the history of fictional literature, "A TALE OF TWO CITIES" is arguably the most famous book title on Earth. Since its publication in 1859, it has sold over 200 million copies.
It is one of the most electrifying love stories ever written told against the backdrop of one of the most terrifying eras in human history. Set during the French Revolution, it is a musical about injustice, vengeance, and the redemptive power of love.
When Dr. Manette is released from the French Bastille after 17 years, he must be resurrected from the brink of madness by his daughter, Lucie. In England they meet two very different men: the exiled French aristocrat, Charles Darnay, whom Lucie marries, and the drunken cynic, Sydney Carton. Soon family secrets and political intrigue combine to draw Lucie and her family back to Paris. At the height of the Reign of Terror, the story finds an unlikely hero in Carton.
The musical's creative team has collectively garnered: 3 Tony Awards, 4 Drama Desk Awards, 1 Oscar Award, 1 Emmy Award, 2 Drama Logue Awards, 1 Obie Award, 17 Tony Award Nominations, 13 Drama Desk Nominations, and 1 Grammy Nomination.
SOUL OF SHAOLIN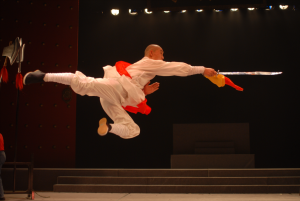 SOUL OF SHAOLIN marked the first time in history that the People's Republic of China performed on Broadway. Celebrating the 2009 Chinese Lunar New Year, SOUL OF SHAOLIN had limited run of three weeks at the Marquis Theatre, received a Tony Nomination & Drama Desk Nomination.
SOUL OF SHAOLIN is a breathtaking Chinese martial arts spectacle that tells the story of a boy named Hui Guang who is separated from his mother by war. Hui Guang is found and taken in by the legendary monks of the Shaolin temple and raised among them
. As he becomes a man, Hui Guang becomes an accomplished master of Shaolin Kung Fu and embarks on a spectacular journey of self-discovery.
SOUL OF SHAOLIN features 30 Chinese nationals highly skilled in Shaolin Kung Fu, the astounding martial art featured in such blockbuster films as Fearless (starring international superstar Jet Li) and Shaolin Soccer.
This amazing show blends the fantastic display of Shaolin Kung Fu with the rich history and tradition of the Chinese people. Created by world-class artists from Chinese theatre, opera and ballet, SOUL OF SHAOLIN is dazzling entertainment your whole family will remember forever.