We know the stories and iconic songs so well that it's hard to believe that characters from Disney movies may have their own tales to tell. Disenchanted!, currently running at the Westside Theater, may permanently alter your views of Disney royalty.
Hosted by a sassy Snow White (Michelle Knight) who can riff like it's nobody's business, princesses from all of our favorite cartoons band together for "one night only" to air their grievances about the seedy underbelly of royal life in a vaudeville-style show. Each song addresses a separate problematic element of a Disney movie or the corporation, comedically asking the audience to second guess their familiarity with and love of the films.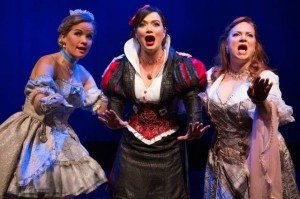 The militant and almost whiny tone of the show gets a little wearing after awhile – the team and cast seem determined to milk every single last laugh they possibly can while the princesses set out to take down the patriarchal system that has exploited them since 1937. A wide variety of issues — racism, misogyny, cultural appropriation, political agendas, and more — are well-surveyed in this short variety-style musical. Lulu Picart bears the brunt of the emotional baggage in this show, portraying non-Caucasian princesses and exposing Pocahontas's "sluttification," Mulan's crisis of sexuality, and the frustrations of Princess Badroulbadour (or, as we now know her, "Jasmine") at being a secondary character in her boyfriend's story. Picart's natural gift for subtle comedy is well utilized throughout those roles to make the material just as accessible as it is thought-provoking. One of the most laugh-inducing (and lengthiest) numbers points out that the only reason Disney princesses have been known to have perfect bodies is because they were drawn by a man – big bosoms and tiny waists aren't natural, and the princesses have stopped trying to pretend they are.
Although Disenchanted! is a bit saccharine and lacking in any kind of real arc, the physical comedy in this production is impeccably brilliant, and these six women comprise one of the most dynamic, hilarious, and synchronized ensembles I have seen in theater this season. This musical is pure fun, but also a thoughtful explication of women thrust into the spotlight without their consent, and the power they unleash when they join forces to prove that they are not just Walt Disney's princesses.
From stagebuddy.com