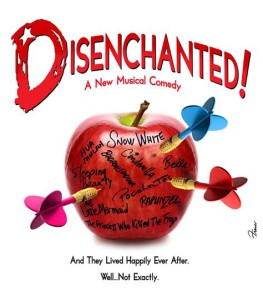 Hey Posse! Here it is! Check out the brand new 'DISENCHANTED!' artwork created by Frank 'Fraver' Verlizzo (Bway poster art designer of "The Lion King, " "Sweeney Todd, " and many more)!
SHARE THE APPLE! Feel free to share this artwork at will – Facebook, Twitter, Instagram, etc
. And tune back in next week for more exciting announcements! Really – next week is HUGE!

Have a great long weekend, y'all! Princesses unite!