Disenchanted!, a new musical comedy by Dennis T. Giacino that explores the misconception surrounding Disney princesses, officially opened at the Theatre at St. Clement's Dec. 4 following previews that began Nov
. 26.
Disenchanted! is playing a nine-week limited engagement through Jan. 25, 2015.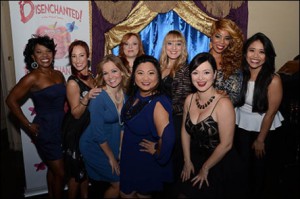 Directed by Fiely A. Matias, Disenchanted! features Michelle Knight (Jersey Boys) as Snow White, Becky Gulsvig (Legally Blonde) as Cinderella, Jen Bechter (Elf) as Sleeping Beauty, Lulu Picart (Listen To My Heart) as Hua Mulan/Pocahontas/Princess Badroulbadour, Alison Burns (Rent) as Belle/The Little Mermaid/Rapunzel and Soara-Joye Ross (Les Misérables) as The Princess Who Kissed the Frog. Erin Leigh Peck (Grease), Karen Burthwright (Jesus Christ Superstar) and Anthea Neri (Oliver!) are the understudies. Here's how the production is billed: "Poisoned apples. Glass slippers. Who needs 'em?! Not Snow White and her posse of disenchanted princesses in the new musical comedy that's anything but Grimm. Forget the princesses you think you know. After multiple sold-out runs nationwide, these royal renegades toss off their tiaras to bring their hilariously subversive, not-for- the-kiddies musical to New York City – and fairy tales will never be the same!" "When teaching his class about the colonial settlement at Jamestown, Virginia, he couldn't help but wonder: What would the 'real' Pocahontas – a circa 1616, rough-and-tumble 10-year-old Powhatan girl – think of the fringed deer-pelt miniskirt and long, flowing hair donned by her 20-year-old counterpart in her 1995 comeback?" press notes state. "A musician at heart, Giacino penned a musical number skewering the 'princess pop culture' that transformed Pocahontas from a revered Native American heroine into a pin-up vixen of the silver screen. Soon, Giacino found himself discovering a number of other 'princesses' who had been similarly wronged." The musical features scenic design by Gentry Akens ("The Mickey Mouse Club"), costume design by Vanessa Leuck (Disney on Ice: Frozen, The Little Mermaid), lighting design by Graham Kindred (Love Linda), musical arrangements by Robert Meffe (Little Women), musical staging by Matt Westand additional arrangements and musical direction by Michael Raabe. Don Frantz and Jonathan Pollard are joined in producing Disenchanted! by Dave Smith/Randy Klein, Musical Theater China and Michael Feldman. Theatre at St. Clement's is located at 423 West 46th St. Visit DisenchantedMusical.com for more information.
From playbill.com