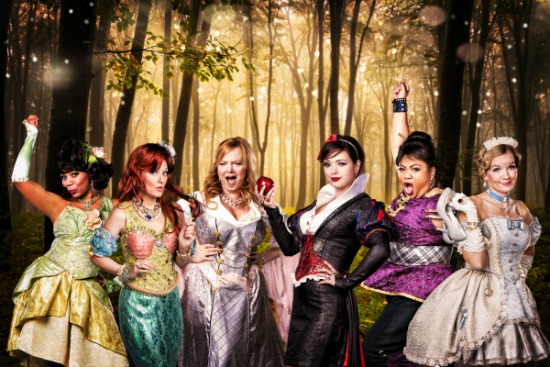 The original "princess posse" of last fall's sold-out, NY premiere limited engagement of Disenchanted! is making the transfer to Westside Theatre Upstairs (407 West 43rd Street) for an open-ended run
. DISENCHANTED! began previews at Westside Theatre Upstairs on March 19, 2015, with an Opening Night slated for tonight, April 7, 2015.
The musical features book, music and lyrics by Dennis T. Giacino, direction by Fiely A. Matias and musical staging by Matt West (Beauty and the Beast).
The "seriously talented cast of six strong, hysterical women who give fairytales a new meaning" (NBC New York) is comprised of Michelle Knight (Jersey Boys) as Snow White; Becky Gulsvig (Legally Blonde) as Cinderella; Jen Bechter (Elf 1st Nat'l Tour) as Sleeping Beauty; Lulu Picart (David Friedman's Listen To My Heart) as Hua Mulan/Pocahontas/Princess Badroulbadour; Alison Burns (RENT Nat'l Tour) as Belle/The Little Mermaid/Rapunzel; and Soara-Joye Ross (LES MISERABLES 2006 revival) as The Princess Who Kissed the Frog. Erin Leigh Peck (Grease), Karen Burthwright (Jesus Christ Superstar 2012 revival) and Anthea Neri will also continue as understudies.
Poisoned apples. Glass slippers. Who needs 'em?! Not Snow White and her posse of disenchanted princesses in the new musical that's anything but Grimm. Forget the princesses you think you know – the original storybook heroines have come back to life to set the record straight. After multiple sold-out runs nationwide, these royal renegades tossed off their tiaras to bring their hilariously subversive, not-for-the-kiddies musical to New York City – and The Big Apple will never be the same!
Sunday, January 25 marked the final performance of the 9-week limited engagement of Disenchanted! at Theatre at St. Clement's prior to the announcement of the show's transfer to Westside Theatre. During the initial engagement, the production defied the trend for Off-Broadway shows with its sold out performances and critical acclaim.
The 'storybook' journey for Disenchanted! began with an award-winning run at Orlando's International Fringe Festival in 2011 ('Best of Fest' – Orlando Sentinel) followed by a sold-out run at Straz Center for the Performing Arts in Tampa, which propelled the licensing of over a dozen productions nationwide, from New Jersey to California, all of which have been met with widespread critical acclaim. Now, in addition to the sold-out New York limited engagement debut and just announced open-ended New York run, this fairy tale is going international. Productions are now slated for Latin America in summer 2015 and China's leading commercial theatrical producer, Musical Theatre China is planning a production in Beijing in the winter of 2015/16. Domestically, AWA Partners are now booking the US National Tour for 2016.
The open-ended New York production of Disenchanted! continues with a little extra fairy dust as the move to Westside Theatre Upstairs marks producer Jonathan Pollard's return to the venue where his record-breaking musical I Love You, You're Perfect, Now Change ran for an exceptional 12 years – making it the longest running musical revue in history (on or off Broadway) and spurring world-wide productions in over 16 different languages. Other recent and notable productions to play Westside Theatre include: The Vagina Monologues, Irma Vep, Full Gallop, Love Loss and What I Wore, Old Jews Telling Jokes, My Name Is Asher Lev, and Satchmo At The Waldorf.
The idea for Disenchanted! was conceived by Giacino, a former history teacher. When teaching his class about the colonial settlement at Jamestown, Virginia, he couldn't help but wonder: What would the 'real' Pocahontas – a circa 1616, rough-and-tumble 10-year-old Powhatan girl – think of the fringed deer-pelt miniskirt and long, flowing hair donned by her 20-year-old counterpart in her 1995 movie comeback? A musician at heart, Giacino penned a musical number skewering the 'princess pop culture' that transformed Pocahontas from a revered Native American heroine into a pin-up vixen of the silver screen. Soon, Giacino found himself discovering a number of other 'princesses' who had been similarly wronged, and Disenchanted! was born!
Featuring Scenic Design by Gentry Akens ("The Mickey Mouse Club"), Costume Design by Vanessa Leuck (Disney on Ice: Frozen – assoc, The Little Mermaid – asst), Lighting Design by Graham Kindred (Love Linda directed by Richard Maltby), Sound Design by Keith Caggiano (Cabaret & Bare), Disenchanted! features musical arrangements by Robert Meffe (Little Women) and additional arrangements and musical direction by Michael Raabe.
Don Frantz and Jonathan Pollard are joined in producing Disenchanted! by David Smith / Randy Klein, Musical Theatre China and Michael Feldman.