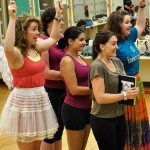 MO – These women are amazing, but I never doubted it for a second!  It's the same place where I received my training of discipline, technique, respect, and professionalism – all qualities the continue to instill into young women every day.  These women are true musical and comedic geniuses!  We are so lucky to be here.
China – While on the other side of the world, Don is embarking on enhancing a musical….or so he thought.  His first day was simply receiving the script for the first time.  And while most scripts would be over a hundred pages, especially if it's in two languages so the director would know what they are saying, Don's script is ….5 pages.  That's right
.  No writer, no designers, no music, 4 producers, kids right out of college, and 65 days to do it.
LET'S SEE WHO CAN MAKE IT TO THE FINISH LINE FIRST!