From Don Frantz …
Back to Beijing in the last days of summer to 'make a show' with a new team. I have a premonition that there is an adventure starting. I will have to share. You'll get a few messages that will confirm envy of my world travels is not always the most appropriate choice. I was anxious to get to work since we only have 65 days to create the show, but my producer wanted to welcome me with a SURPRISE. We met at the office at 2pm and after introductions got in the car on an hour drive to Beijing's famous Summer Palace
. The national landmark was already closed…but the back door opened.
It was a grand affair with a tentative team waiting, it seemed to me, for me to say brilliant things.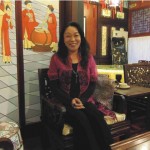 Except for Wang Yu, our producer, visionary, and another person who has decided to grab for the brass ring
Of 'making a Chinese musical.'   I asked why.  She said she doesn't know.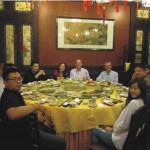 So the round table spun and we ate.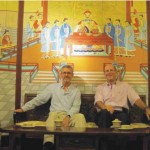 I was thrilled to share the event with friend Richard Bernstein. 32 years ago we were both walking and dining
Beijing, he with Time Magazine and I with the Mark Wilson Magic Show, now sitting in the
Emperor's chair.  His story about us is still in my memories box in the attic.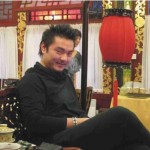 You gotta love composers wherever they come from.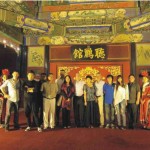 It is a happy little troupe standing on Emperor's Cici's Peking Opera stage at her summer retreat!
Retreat seemed a possible choice the next day.  I was ready to work on day 64-to-go.  My contract called for me to make revisions to the script from the March production and begin rehearsals in 2 weeks on Sept 10.    The script was not send to me in advance.  The next day I slowly discovered that we were not doing the old show and that there was a 4 page story summary of an entirely new show.  This was called a script by my chemistry major translator.  No, that's a story, not a script. There was no writer, no lyricist, no designers and no one that 'made a musical' except for the composer, who said, 'we can make a miracle.'