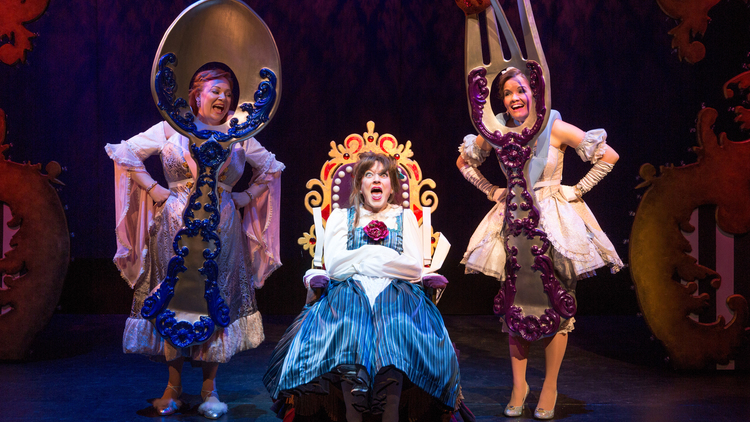 Disenchanted: In brief Dennis T. Giacino's not-for-children musical revue gives a saucy makeover to Snow White, Sleeping Beauty and other fairy-tale princesses. Fiely A. Matias directs an all-female cast of six.
Disenchanted: Theater review by David Cote If you love fairy tales with a sassy modern twist but find Into the Woods (at the Roundabout Thu 18 and in the multiplex Dec 25) too great an intellectual challenge, relief is here: an occasionally vulgar, slightly tacky satirical revue from the perspective of Disney princesses. Cinderella (Becky Gulsvig) has food issues ("All I Wanna Do Is Eat"), Sleeping Beauty (Jen Bechter) must accept being plus-size ("Perfect"), and Mulan (Lulu Picart) wonders if she's a lesbian ("Without the Guy"). In other bits, Belle (Alison Burns) of Beauty and the Beast has been driven mad by dancing silverware and the Princess Who Kissed a Frog (Soara-Joye Ross) raises the roof with an anthem to long-deferred ethnic diversity. Most of this pseudofeminist material is unsurprising and broad, but the ensemble's six troupers ply their cruise-ship-entertainment craft well. Book writer-composer-lyricist Dennis T. Giacino might have ceded one of his hyphens to a collaborator who could have lent the diffuse, schematic vaudeville more cohesion and punch, but Fiely A. Matias's cartoon-bright production goes by smoothly, and the cast earns its laughs
. For a boozed-up bachelorette outing, I suppose Disenchanted could be a hoot, but its magic moments fade fast.—Theater review by David Cote
THE BOTTOM LINE This lampoon of Disney's fairy-tale heroines is not so spellbinding.