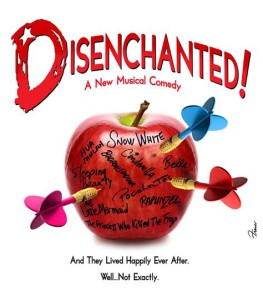 This week I had the opportunity to see Disenchanted! and it was fabulous!  This is a great show to see with your friends– a perfect girls night out..  The story is hysterical!  You will see your Disney heroines in a new light– and you will love it!  The actresses are incredible, each having their own unique and amazing voice.  It would be impossible to pick my favorite song (there are so many), but 'I Just Wanna Eat' is still running through my head and cracking me up a week later.  Snow White, Cinderella, Pocahontas, Arielle, and so many others will have you laughing out loud and inspire you at the same time.  Don't miss this great 'Girl Power' show– get your tickets before their NYC run ends on January 25th!
Poisoned apples. Glass slippers. Who needs 'em?! Not Snow White and her posse of disenchanted princesses in the new musical comedy that's anything but Grimm. Forget the princesses you think you know. After multiple sold-out runs nationwide, these royal renegades toss off their tiaras to bring their hilariously subversive, not-for-the-kiddies musical to New York City – and fairy tales will never be the same!
LIMITED ENGAGEMENT! NOVEMBER 26 – JANUARY 25 ONLY
Book, Music & Lyrics by Dennis T. Giacino, Directed By Fiely A. Matias
Theatre at St. Clement's – 423 West 46th St (at 9th Avenue)
Visit DISENCHANTEDmusical.com or call 866.811.4111 and use code GENM for tickets from $39 (reg. $68)!*
Parties of 8 or more, click here for special rates!
For more information, visit www.DISENCHANTEDmusical.com
*Service fees apply to online/phone orders
. Schedule is subject to change. All sales are final. Not valid with any other offer.
From Macaroni Kid