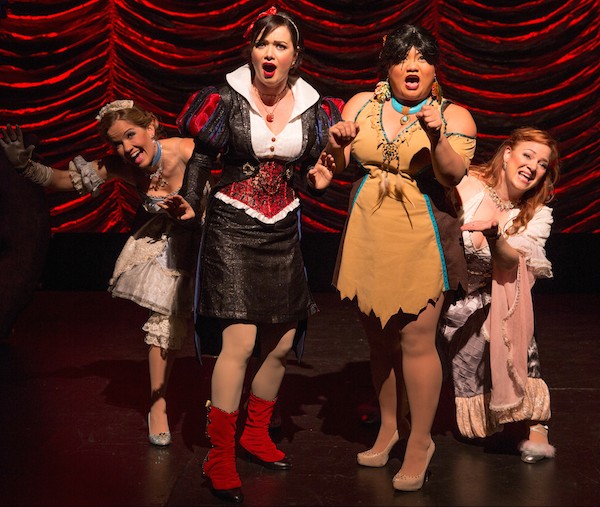 A chance meeting at a gay social event in Portland, Oregon 23 years ago has resulted in a longstanding personal and creative partnership between Fiely A. Matias and Dennis T. Giacino. I first met the couple in 2001 when they presented Asian Sings the Blues at the New York International Fringe Festival (click here to read my review of that show). I adored their quirky sense of humor expressed via Fiely's campy, over-the-top performance and Dennis's tuneful songs with hysterically funny lyrics.
Now they are back in New York with their Off-Broadway debut, Disenchanted! A New Musical Comedy, performing at Theatre at St. Clement's. Dennis has written book, music, and lyrics, while Fiely directs the all-female ensemble
. The conceit for this smartly written and highly entertaining show is that several of the princesses featured in Disney cartoon movies have come to set the record straight about what they are really like.
DAN BACALZO: What initially sparked your interest in creating this musical?
DENNIS T. GIACINO: I used to be a history teacher way back in the day, and every year I would teach about Pocahontas and the Jamestown settlement. In 1995 when Disney's animated feature came out, I wondered, "What would that little tomboy think of the way she looks in this movie?" She was ten in real life, but not-so-ten and not so tomboyish in the movie. And so that sparked a song. As time went on, I realized, she may not be the only princess who has a bone to pick with her old buddy Walt.
DB: As you were researching the original versions of the various fairy tales that the Disney movies were based upon, did you encounter anything that really surprised you?
DG: I didn't know how violent they really are. It shocked me that the Little Mermaid kills herself at the end of her original tale. This sort of informed me, as I wanted to bring in a little sense of sadness and reality to the comedy. That's why the mermaid sings a funny yet melancholy song. We're dealing with the Princess Complex in today's movies, but we're also dealing with this violent turn towards women in the old fairy tales.
DB: Fiely, at what stage in the script writing process did you start having input into the show's development?
FIELY A. MATIAS: Remember Asian Sings the Blues? I was the first person to sing the Pocahontas song, in drag. Basically, Dennis and I have been collaborating for over 20 years and I've been his sounding board for all the projects that we do. One example of collaboration is when he wrote "All I Want to Do Is Eat." He sang me the initial verse as I was washing dishes. And I said, "Sing that again. I have an idea." So he sang, "All I want to do is eat," and then from washing dishes, I said, "a burger." I started naming off junk food items and then we started to laugh. So we thought, why don't we put in all junk food items that people like? So I threw in a joke here and there, but mostly Dennis wrote it.
DB: Can you talk about how you went about choosing the details that would be put into song, as well as the musical styles that you ended up incorporating?
DG: For Mulan, I was watching a family down by the water in Vancouver, British Columbia, which is surrounded by a beautiful bay and mountains. This little girl from China had a white sweater on and was playing in the dirt down by the water. And I remember her father and mother coming over to her and taking her hand, "No you can't play in this dirt." She was really sad. And that sparked the idea for the sound of Mulan's song. I wanted her to have this sense that "this is the way I've been told I have to live but I actually am thisway. And just because I am a little different from what most people would expect, does that make me any less valid a person? Can I not be a princess?" So, the theme of that made the sound of that song for me. I wanted it to sound kind of melancholy, but then pick up and be sort of fun when she starts rhyming the word "lesbian" and showing her self-acceptance. Because the point of the show is that happily ever after is accepting yourself and not trying to fit into a certain mold. With the Princess Who Kissed the Frog, I wanted to go very Motown with it. Disney hasn't always had a lot of diversity – it took, as we put it, "a hundred year stroll to get a Snow White with soul." So I wanted her song to be very celebratory. It was fun picking and choosing where the sounds came from. For Princess Jasmine, we just played with the word, "jazz, man" and made that very jazzy and fun on that crazy flying carpet.
DB: Oh, I absolutely loved that costume. Can you talk about your work with the costume designer, Vanessa Leuck?
FM: Vanessa has done a lot of work for the Disney corporation, actually. She just came off of Disney's Frozen on Ice, that's touring now. When we won the New Jersey Playwrights Festival with Disenchanted!, Vanessa was the costume designer for that version. We met her there and really loved the ideas that she put in. She made a smaller version of the carpet for the New Jersey production and so when we came to New York, she was one of the people we interviewed. She does such detailed work and what's great about Vanessa is she would give me three or four ideas, which is a director's dream. I just had to choose one of the good ideas. We had discussions with Dennis, of course, and with Matt West, our musical staging person. But basically she brought in a lot of her own ideas and I just had to pick and choose.
DB: Fiely, since I knew you first as a performer, when did you start going behind the scenes to direct?
FM: I think I've always wanted to direct. When we'd do our own projects, Dennis and I would direct together. When he first started to writeDisenchanted!, it was supposed to be a one-man show for me.
DG: It's true!
FM: I would start singing the songs, and Dennis would be like, "This doesn't sound right in your voice." And when he decided it was going to be an all-women show, I was like, "Well, I'll be the director because I have nothing else to do!"
DG: I also feel that Fiely is a really good interpreter of my work and what I'm trying to say. So it just seemed like a perfect fit. I've had other directors interpret my work, but nobody really interprets it like Fiely. He gets it. He understands how to play the comedy, but that beneath the comedy is a certain darkness and he allows that to live and breathe. He also allows some improv on the stage, which I think makes this show even that much more fun.
DB: Who's your favorite Disney princess and why?
FM: I grew up singing and loving The Little Mermaid. I would sing that damn song all over the place. What I really love, too, is that when the Pocahontasmovie came out, and Mulan, too, I thought it was cool that here were some ethnic princesses. I love the Disney songs, like "Just Around the River Bend," "Reflection," and "Part of Your World." The crazy thing is, Dennis and I have both grown up loving the Disney songs. Like any gay boy, I'd sing all the ingénue songs.
DB: Dennis, I read somewhere that you actually worked at Disney World at one time. Is that true?
DG: It is! As Fiely was saying, we're real Disney fans. So this show is just a loving poke, you know? I wanted several of the songs to pay homage but also spoof the Disney sound, with the Mermaid playing on Alan Menken's sounds or Mulan playing on Stephen Schwartz's sound. So, yeah, I worked as a training coordinator in the Magic Kingdom. I taught non-actors how to be actors in scripted, or as we called them at Disney, spieling attractions: Jungle Cruise, Haunted Mansion, Pirates of the Caribbean, and the Tiki Room. I had to learn every one of them. I was a jungle cruise skipper, and I was one of the butlers at the Haunted Mansion, so it was really cool.
DB: Have you had any official representatives from Disney come to see your show?
FM: Actually, when we did it in Orlando, I was also a performer at Disney World doing street improv. So a lot of Disney bigwigs in the creative as well as administrative areas have come to see Disenchanted! and have basically loved the show. It's a different level of humor for them because they know a lot of the stuff we do also has a Disney edge to it.
DB: Can you talk a little about your current cast and what it's like to work with them?
FM: They are great singer-comedians. A lot of them have done Broadway shows or national tours. It's a hard show because you need to cast six divas, in a sense. So the rehearsals were very energetic. (laughs) They had a lot of ideas, and I had a lot of ideas and it was a very creative, fun process. Michelle Knight, who plays Snow White, and Lulu Picart who plays Mulan, Pocahontas, and Badroulbadour have been with the project for three years now. We were so happy we were able to bring them up from Orlando to do this show because they know our aesthetic. The other four were cast here in New York.
Disenchanted! performs at Theatre at St. Clement's (423 W. 46th Street). Evening shows are M & Tu at 7; Th-Sa at 8; and Su at 7:30, with matinees Sa & Su at 3. For tickets and more information (including holiday schedule), visit www.disenchantedmusical.com.