In the fall of 2000, I had the assignment and nerve to direct Ms Angelou (and 11 other celebrities) in her appearance at… get this..
. Madame Tussaud's Grand Opening on 42nd street.
She was to make an appearance and two wonderful Broadway female dancers would pull the curtain apart and escort her to her place on the stage. So I said in the presence of everyone assembled, "And Ms Angelou, the girls will then open the curtain for you".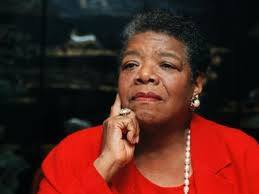 She said, "Are you referring to these two wonderful young women? If you are, young man, you may want to say "young women" before I start using the word boy".
In ear shot around the room stood, Kareem Abdul Jabbar, Evander Holyfield, Huey, Barbara Lazeroff, Ru Paul, Al Roker, Liz Smith, Patrick Stewart, Dan Rather, Donald Trump & Ivana Trump and Tony Bennett and suddenly everyone seemed terribly interested in what I would say next.